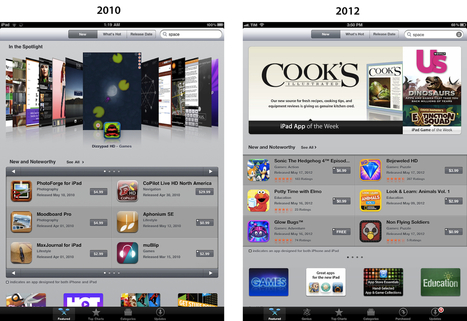 From MacStories: "After four years, the App Store has become more than "a grand slam" — it has ignited an app revolution that created a new economy that supports over 210,000 jobs in the U.S. alone.
But Apple should do more with its "curation" process, and with the annual WWDC approaching, developers hope the company has been listening.

"A movie recommendation from Roger Ebert means a lot more to me than a computer generated ranking based on reviewer scores", ...I think it's the personal touch that's missing".
Excerpted from the original article: "The topic of curation on the App Store isn't new to developers and observers of Apple's ecosystem.
...Gassée believes that alongside the 600,000 apps available on the App Store, an Apple-made, curated "App Guide" with reviews and opinions would "give app seekers more than today's skimpy categories and unreliable user reviews".
A better selection of apps would, in return, further showcase the amazing capabilities of iOS devices, which is where Apple makes a profit.
...
I want Apple to tell me why they think the app is great. And I want to be able to find these recommended apps later on ...
In a way, the "curated App Store" lacks an editorializing process that goes beyond simply selecting and organizing apps in custom sections, but that also explains why a specific app should be worth of attention.
...
Last week, TouchArcade released its first iPhone app, combining the website's editorial process with an app discovery system directly linked to the App Store, and enhanced with videos, screenshots, and recommendations. "...It's heavily curated by experts, trusted by users, and has a ton of great features like watch lists and videos", Brichter said.
Ultimately, it comes down to trusting the people who recommend apps to buy.
Hockenberry noted how "customers trust sites like Macworld, MacStories, or Daring Fireball to find them the best apps", and admits that doing "curation" along these lines would change the whole dynamic for developers."
In-depth analysis. 8/10
Full article: http://www.macstories.net/stories/four-years-of-app-store-developers-weigh-in-on-search-discovery-and-curation/