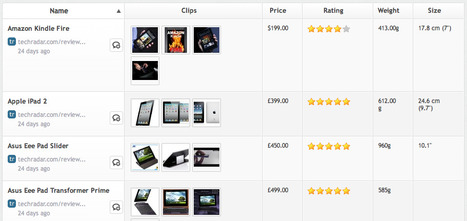 Robin Good: GetVega is a Pinterest-like visual clipping tool, which allows you to create lists and visual collections of commercial products while easily capturing selective info relative to each one (cost, size, weight, price, etc.).
As I have been writing, one of the key next evolutionary areas for content curation tools, is the delivery format. It is on this front that there are lots of marvellous opportunities yet to be tapped. And GetVega is one of the first curation tools to do a great job on this front.

In fact, one key feature inside GetVega is the ability to display curated collections in one of three different visual formats, depending on the type of list and use you want to make of it. One such display format is extremely effective and valuable as it makes it easy to "compare" products and info within one collection.

GetVega provides a Google Chrome extension that allows you to easily clip one or more images from any product page, as well as any specific product info text or video.

Check out for example this curated collection of iPad alternatives: http://www.getvega.com/list/4f030465e91683175200a750-do-i-really-need-an-ipad You can see at a glance the different tools and their key specs.
Collections can be set to be either "public" or "private" and can be easily shared on
Similar "product curation tools" include:
Polyvore, Wanelo, Bagcheck, Curisma, OpenSky, Lyst
Recommended. 8/10

Try it out now: http://www.getvega.com/