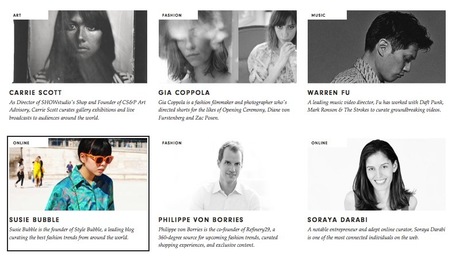 Robin Good: Featuring the likes of fashion blogger Susie Bubble, filmmaker Gia Coppola, Evan Oresten from Cool Hunting and Carrie Scott of SHOWStudio to Philippe Von Borries (co-founder of Refinery29), Chris Corrado (Director of Capsule), Warren Fu (music video director for artists including Mark Ronson and The Strokes) and Soraya Darabi (founder of Foodspotting), Curators Conference will take place in a few weeks at the Walter Reade Theatre, Lincoln Center in New Yok City.
Here some more details: "...during New York Fashion Week on the 5th September , online channel Portable is presenting The Curators Conference, a day long event featuring the leading international curators and creatives across fashion, film, music, design and technology.
The event aims to, 'explore the many worlds where curation and creativity intersect with modern culture', hoping to inspire audiences and foster industry innovation."
(Source: Prote.in)
From the official site: "A day-long conference featuring the leading curators and creators of culture across fashion, film, music, interiors and design."
Tickets (start at $295): http://curatorsconference.eventbrite.com/
Find out more: http://portable.tv/curatorsconference