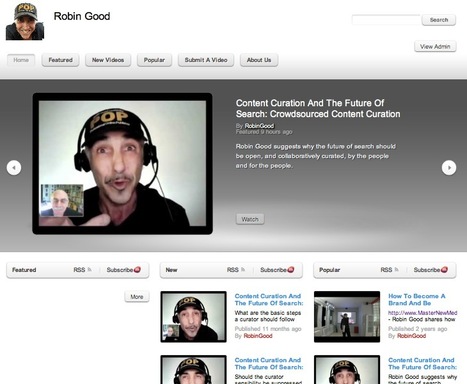 Robin Good: MiroCommunity is a video publishing and curation platform which allows you to create a video web site where you aggregate and publish any number of video clips (up to 500 for free) while being able to sort and organizing them in several ways.
MiroCommunity allows you to import video clips into your dedicated video site (xxxxx.mirocommunity.org) by either providing a specific URL or by inputing a YouTube specific username URL, or video RSS feed.

The Premium version allows you to map the newly created site to your own domain and to add a lot more clips.
Outside of some minor issues with the interface organization, small bugs and the non-existent support infrastructure (you can write but nobody answers) this is a super-solution, like no other, to create a compelling and professional looking video site on just about any topic you want.
I would highly recommend it.
Key benefits:
-> Works with your existing video hosting setup and workflow - no need to re-post videos.
-> Lets you bring together videos from a wide-variety of hosts and sources, into one curated experience.
-> Automatically imports and publishes RSS feeds of videos from any source.
- > Generates multiple RSS feeds for your curated sections and categories

-> Provides for the easy creation of video playslists
-> Runs on open-source software.
Here is a sample video site I have created in less than 30 mins: http://robin-good.mirocommunity.org/
Free to use.
More info: http://www.mirocommunity.org/